Improve School Behavior by Teaching Social Skills All Day Long!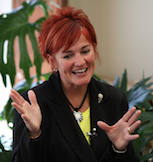 When a student gets in trouble in school it is invariably because they did not have the social skills to handle what was facing them. Think about it. Therefore, instead of teaching social skills as a separate curriculum, Polly Bath uses teachable moments in the classroom, hallways, and lunchroom to teach students the social skills and good manners they need to be successful. She unravels the typical school day and classroom, exposing the countless times students are called upon to have good social skills, including in the academic setting. It is very enlightening!
Discover the embedded social skills requirements in the average classroom that can make the socially unskilled, but academically prepared, student look as if they do not know the lesson, or don't know the material well enough to complete an academic assignment, when they do.
In this very funny, full-day workshop, liberally spiced with Polly's signature humor and stories, she guides the audience to a new way of helping kids improve their behaviors by helping them build their skills on the spot–right when they need them.